---
Kent NGfL Robolab Project
2000 - 2001
Real Models - using space age programming and
Lego Dacta Robolab software Pilot Level
In this unit from the QCA Scheme of Work (Unit 5e), the children learned how to control simple devices, such as light or touch sensors, small motors and lights using the Lego RCX brick and icon-based software similar to that used by NASA to control their lunar buggies. The children learn to adapt basic programs, and to add or delete steps to generate a sequence of instructions. Click here for more detailed information.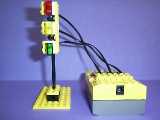 Emily built some Traffic Lights and then programmed them to work in the right sequence. Output A is the red light, B the amber light and C the green light. Each light comes on at its brightest setting (5) for a period of 2 seconds. The red stop icon prevents bulbs from lighting up at the wrong time.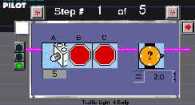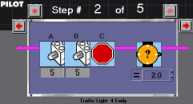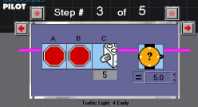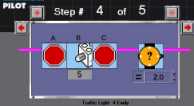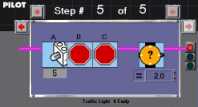 Other children have built models from the Lego Amusement Park kit.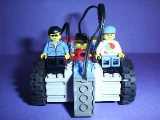 This is the tourbus (left), built by Bobby, George, Cory and Andrew. It uses a light sensor to navigate its way around a white mat with a black border. When the tourbus crosses the black border, it changes direction back onto the white mat.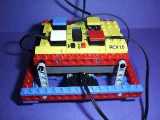 This is the bumper car (right), built by Aaron, Zoe and Tina. It uses touch sensors to navigate its way around an enclosed area. When the bumper hits an object, one of the touch sensors is activated and the bumper car then turns around and heads off in a new direction.
Would you believe that the models you have just seen use "basic" programming, using the "Pilot" level of Lego Dacta's Robolab software? The Pilot level of Robolab allows pupils to modify given sample programs and solve associated problems. Once pupils are familiar with this icon-based programming, they move on to writing their very own programs from scratch.Follow the link below to see "advanced" control technology using the Lego RCX brick programmed at the Inventor Level of Lego Dacta's Robotic Command System. Primary pupils using this level of robotic control technology rival their older friends in secondary education !!!! Watch out NASA!!!
---
If you are a regular visitor to my site and find the free resources useful, please consider making a donation. All proceeds go towards hosting fees and keeping this not-for-profit website ad free.

Copyright © 2002 to 2011 Diane Hawkins All rights Reserved.
Subscription services are not allowed to link to this site.
Graphics from Printmaster Gold UK Publishing Suite version 7 "The images used herein were obtained from Mindscape's PrintMaster product, (c) 1998 Mindscape, Inc., 88 Rowland Way, Novato, CA 94945 USA. All rights reserved."
~ Site Design by Diane Hawkins ~