---
Mission: Control
(Crystal Rainforest 2)
Mission: Control (Crystal Rainforest 2) - a simulated adventure
(Sherston Software, www.sherston.com)
We used Mission Control to introduce the children to control technology, as we did not have the funding at the time to purchase the LegoDACTA Robolab equipment and software.
Mission Control is an adventure program which simulates control technology. The children face a series of problems and challenges that introduce and develop the idea of control technology in a carefully structured and logical manner as they battle to save the last remaining rainforest on the planet of Oglo. They have to create, test, modify and store sequences of instructions to control events using motors and lights. As the adventure develops, they progress to systems that respond to data from virtual sensors.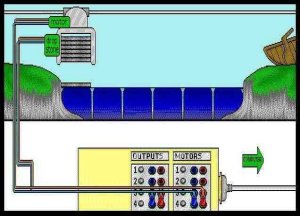 The problem - to build a bridge across the river
You must build a bridge using a machine which drops stones one by one onto a supporting framework. It is important to work out the delays carefully, so that the stones are dropped at the correct points and don't overlap.
Using trial and error, and then experience and logic, the children come up with the command string below.
Repeat 5
Motor 4 forward
Wait for 2 seconds
Motor 4 stop
Output 4 on
Wait for 1 second
Output 4 off
Again
---
If you are a regular visitor to my site and find the free resources useful, please consider making a donation. All proceeds go towards hosting fees and keeping this not-for-profit website ad free.

Copyright © 2002 to 2011 Diane Hawkins All rights Reserved.
Subscription services are not allowed to link to this site.
Graphics from Printmaster Gold UK Publishing Suite version 7 "The images used herein were obtained from Mindscape's PrintMaster product, (c) 1998 Mindscape, Inc., 88 Rowland Way, Novato, CA 94945 USA. All rights reserved."
~ Site Design by Diane Hawkins ~