---
Kent NGfL Robolab Project
2000 - 2001
Like the fly, the car is built in four stages, with a program for each stage, ranging from extremely simple to very complex. The structure of the car remains much the same at each stage, but the programming gets progressively more interesting. The infra-red receiver is kept clear and therefore sending the program to the brick is not a problem.
Again, programming at stage one is at Pilot Level 1 and involves attaching the wire from the single motor to port A and running it for 4 seconds. The use of one motor with pulleys and cogs to drive the back wheels is very interesting in this model. The car is also much more robust than any of the cars and buggies we built this year and last.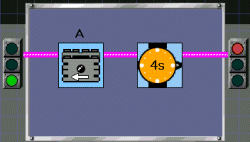 Although the programming at stage two is still a four step Pilot Level 4 template, the children wanted to try it out. Like the fly at this point, the car is controlled by a hand-held touch sensor. The children changed the run-once program to a repeat forever loop, so that they could walk with the car up and down the corridor, taking turns to start and stop it.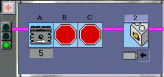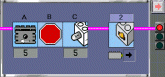 Stage three

Stage four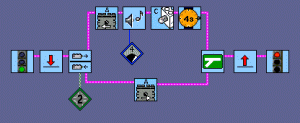 Verdict
Another super model, with lots of scope for the children to write their own programs. Instead of the blue light, children could add headlights with perhaps a light sensor to turn them on or off. Different ways of using the touch sensor(s) to stop or turn the car could be investigated.
---
If you are a regular visitor to my site and find the free resources useful, please consider making a donation. All proceeds go towards hosting fees and keeping this not-for-profit website ad free.

Copyright © 2002 to 2011 Diane Hawkins All rights Reserved.
Subscription services are not allowed to link to this site.
Graphics from Printmaster Gold UK Publishing Suite version 7 "The images used herein were obtained from Mindscape's PrintMaster product, (c) 1998 Mindscape, Inc., 88 Rowland Way, Novato, CA 94945 USA. All rights reserved."
~ Site Design by Diane Hawkins ~