---
UWSAG Top Ten and Other Awards

Teaching and Learning Resources is proud to have won over 25 Gold Awards from UWSAG member sites.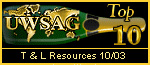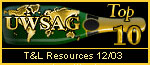 Elected one of the UWSAG Top 10 March, June, July, October and December 2003
"Award seekers who have earned a UWSAG Seal of Approval Badge, can now be recognized as applicants with integrity." The Top 10 Program is where Award Program owners holding a UWSAG rating nominate a website which is one of their top award winners for that month. Teaching and Learning Resources is proud to have been included in the Top 10 for March, June, July, October and December 2003.
Teaching & Learning Resources is a well defined and aesthetically pleasing site that offers resources for a broad spectrum of teachers and students. Diane Hawkins has apparently taken time to develop a superb website that stands out above the rest.
--Veronica LaLonde, Raven Family Awards
The site is offering stimulating, interactive learning resources to support the National Curriculum for England and Wales for children in Key Stage 2 (ages 7 to 11) of Primary School. A source of information for teaching staff and pupils alike. Even if the site is simple in design, it's effective and flawless in it's coding. Pages load like the wind and the navigation is a breeze! Worth visiting, that's certain. Again and again. An added value to Internet!
--Luuk Francken, LTS Awards

I nominated this site for it's excellent content with interactive learning for children and excellent resources for parents. This site also provides technology tools in teaching. It truly is a unique site and to me, any site which benefits children and learning, by providing excellent content deserves to be noticed. This site is also very well designed and well organized and is user friendly for it's visitors.
--Donna Snyder, WWW Awards
Teaching & Learning Resources is an interactive site for students, teachers and parents. They offer well researched links and articles, free resources, fun projects and games for kids and their downloads are offered in several formats for compatibility and ease of use. The site itself is well designed, has excellent navigation, well chosen and optimized graphics along with good coding and use of accessability features. The Webmistress of the site is to be commended for being an excellent example of a properly motivated and deserving Award Seeker.
--Tara, Brujah Haven
Diane has painstakingly developed an extremely resourceful site which is well laid out and excellent with regards to content. The on-site resources/project/games and downloads are are excellent educational utilities which as a whole makes this site a great addition to any educational library. The site design and navigation is excellent and goes hand in hand with the theme of the site.
--Tom Lyall, TLTC Awards
The site has interesting and high quality content and very nice coded site and hard work
--Jin Soek, Kim of Korea Awards
This site is very useful, educational, and stimulating especially for younger children aged 7-11. A great contribution to the World Wide Web!
--Gracie Jones, A Woman Is Awards
An excellent and dexterous site for interactive learning with wide diversity of basic cognitive knowledge in English. Very suitable also for adults, whose native language isn't English.
--Juhani Kerkkonen, CLL Website Awards
This is a wonderful site with so much to give. She has got the site W3C validated and it does check out for 508 if you were to run the checks on it. Great layout and color contrast I feel it is one of the better sites I have seen.
--Bernard Howe, Keepsake Awards
---
If you are a regular visitor to my site and find the free resources useful, please consider making a donation. All proceeds go towards hosting fees and keeping this not-for-profit website ad free.

Copyright © 2002 to 2011 Diane Hawkins All rights Reserved.
Subscription services are not allowed to link to this site.
Graphics from Printmaster Gold UK Publishing Suite version 7 "The images used herein were obtained from Mindscape's PrintMaster product, (c) 1998 Mindscape, Inc., 88 Rowland Way, Novato, CA 94945 USA. All rights reserved."
~ Site Design by Diane Hawkins ~